Burmese Ruby Sold Out at £147,600 in auction
Chiswick Auctions broke a house record this week at the best cost accomplished for an adornments parcel. The amazing 6.51 carat Burmese ruby (Lot 192) sold for a noteworthy £147,600 (counting premium*) in the twelfth of September Jewelry sell off.
A 6.51 carats Burmese ruby and precious stone group ring with regal provenance. Joined by two lab reports. Sold: £147,600.00 incl. premium In Sanskrit, the word for ruby is "ratnaraj" or 'ruler of valuable stones' and that positively ended up being the situation. The ring has illustrious provenance having been a blessing from an individual from an Asian regal family.
Following six days of review, including at Chiswick Auctions' new South Kensington branch, the Chiswick saleroom was a whirlwind of action on the day with a substantial number of bidders in the room and an exceptionally bustling phone work area handling offers from everywhere throughout the world. After fourteen phone lines completed the process of seeking the extensive ruby ring, the mallet fell at £120,000 to an unknown purchaser among a series of praise from the saleroom.
[ Further Reading: When Breakfast at Tiffany's Become Real on Tiffany and Co ]
"The minute we saw the ring I realized this was something of excellent quality and significance. The merchant worked with us intently to showcase the ruby in a way which boosted claim and brought about far reaching global presentation." says Sarah Duncan, Head of Jewelry. The 6.51 carat Burmese ruby and jewel bunch ring was joined by two reports, both affirming the beginning of the stone from Burma and the way that it had not been warm treated. A tiger's eye wristwatch, by Piaget, around 1970. Sold: £7,995.00 incl. premium.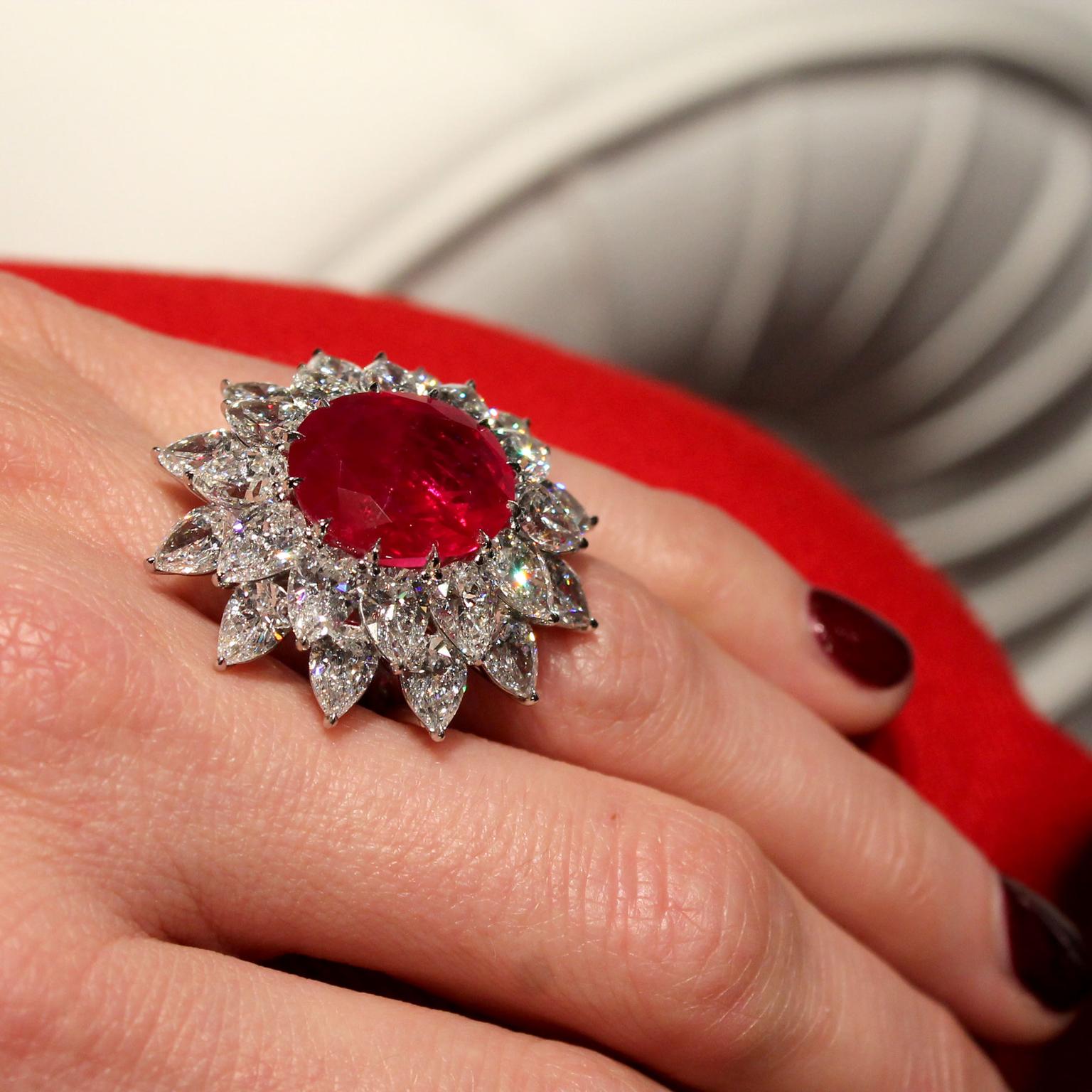 Aggressive offering was likewise observed on alluring marked parcels with pieces via Cartier, Buccellati, Piaget and Van Cleef and Arpels all accomplishing solid outcomes. A 1970's tiger's eye wristwatch by Piaget sold for £7,995 against a pre-deal sell off gauge of £800-1200 and a profoundly looked for after 'Enchantment Alhambra' jewelry by Van Cleef and Arpels accomplished £12,915 A mother-of-pearl and onyx 'Enchantment Alhambra' jewelry, by Van Cleef and Arpels. Sold: £12,915.00 incl. premium
Classical gems, which has for quite some time been a staple of the closeout showcase, demonstrated extraordinarily solid for uncommon pieces. A 4.32 carat old splendid cut precious stone ring accomplished £14,760 and a Georgian garnet hoop and pendant suite sold for £2,706. "The market for good quality marked and antique gems is winding up progressively aggressive and purchasers are set up to pay well for these uncommon things." says Duncan.